My name is Jaran Youngmark. I was born in 1972 in the small Thai town of Ban Gerd located in Jung-Wad Province . I am known in art circles as the BestThaiArtist. My studio is located at Jatujak Weekend Market in Bangkok, THAILAND. The BestThaiArtist Shop and Gallery is located at Soi 2, Zone B, Jatujak Plaza. Of course most of my sales and international recognition has been through USA-based art shows and e-commerce. I obtained my artistic education at Pajamangla Institute of Technology: known today as Poh Chang University. I have two partners and both hold primary roles in this enterprise.
My wife Gawk (Krittinan Photchananon) is also an artist and is a tremendous help to me in preparing canvases and assisting with ideas related to artistic composition. My sister-in-law Game (Phornphan Photchananon) is the BestThaiArtist language interpreter. Game works with our clients on cost estimates and she also oversees international commerce and maintains the website. Pakkom is our steadfast sidekick: going everywhere that we go and doing everything that we do!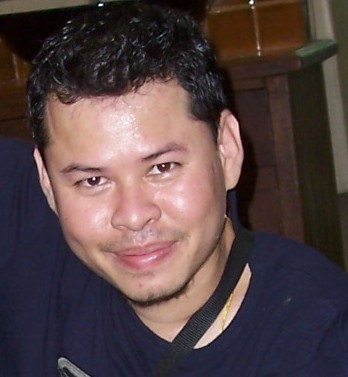 Having both an education in art coupled with a sincere passion for art, my associations in the artistic arena abound. Each year, I submit one painting for donation to the Red Cross Project of Princess Sirindhorn. I am also available for commissioned work. I was previously commissioned to paint an elaborate design of tremendous complexity on the ceiling of a casino in Cambodia using an airbrush: look for this to be displayed on this website in the near future. I also designed a logo which was painted on the plane of Tom Claytor , an adventure-seeking bush pilot who is known for his travels in flying around the world: look for the logo to be displayed on this website soon too.
I am also becoming increasingly well known through the artwork I have done for Visiting Professors at Chulalongkorn University: Petrochemical College. Most notably, this has been through Dr. Edgar A. O'Rear, the Francis Winn Professor of Chemical, Biological and Materials Engineering and Director of the Bioengineering Center at the University of Oklahoma , USA. Several Universities in the United States have Professors on rotation at Chulalongkorn, many specialize in teaching a particular short course to Thai students. Most of these professors return each year.
It just so happens, Dr. Edgar O'Rear is the spouse of Dr. Kathy Young: a US citizen who stumbled upon me at Jatujak Weekend Market by way of Mahboomkrong (MBK) in 1997. Over the years I have done numerous paintings for her as well as her friends and family. Dr. Young is the inspiration behind this website, and a HUGE overall supporter of my work. To be sure she is my steadfast #1 USA Fan!
Since I am worldwide And GROWING, I sincerely hope you will check back often and, better still, I hope you will let me make an eternal painting out of your favorite photograph! Remember, I am confident about my work: I stand behind it Always and All Ways!